It has at 152 hotel rooms. WiFi internet access is available in all rooms at an additional cost.
The rooms in the beach hotel are air-conditioned,  each including its own bathroom, full-length windows with a beautiful view of the area, a phone, a private balcony and satellite-enabled TV.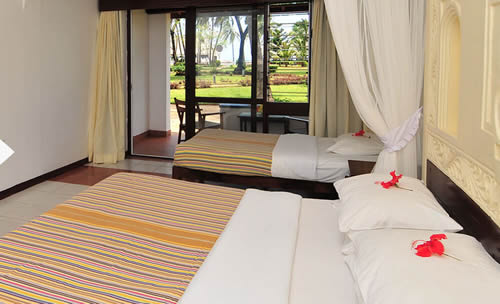 Mombasa Reef Hotel houses 4 full-service bars, and furthermore includes a major restaurant which offers a variety of local and intercontinental dishes prepared by expert culinary chefs. Reef Hotel's main restaurant serves buffets for breakfast, lunch and dinner. Snacks, burgers and pizza are available at the Pool Side Bistro, while Tanga Grill specialises in grilled meats and seafood.
Dinners are offered in buffet options. The hotel has a swimming pool and a pool bar. The hotel masseuses offer a full scope of services including full body massages. A tennis court and fitness room are available for sporty visitors. Alternatively, guests can ask the 24-hour reception staff to help organise a diving, snorkelling or fishing trip.
There is likewise a hair and beauty salon.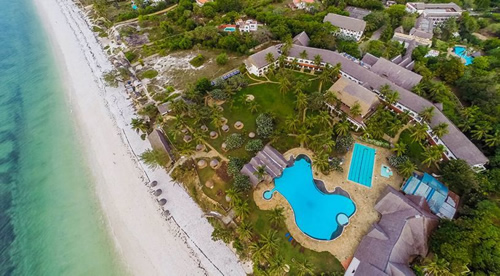 Reef Hotel Mombasa offers a conference facility outfitted with a PA system, cordless microphones and LCD projectors. Event organization facilities are also offered in the hotel. A business centre is accessible and offers full secretarial services. Airport transfers, babysitting, and laundry/dry cleaning services are offered. In terms of security, the premises are watched by security staff. Parking is available within the hotel compound.
Mombasa Reef Hotel is located 20-30 minutes from the Moi International Airport and is neighboring shopping malls, clubs, restaurants and golf courses. The hotel is additionally around 7 km from the Mombasa downtown area.
For recreational exercises, the hotel arranges snorkeling and dolphin-spotting excursions in Shimoni and visits around Mombasa city.